Magic Lasso Adblock 2.0 introduces a new way to support websites through community whitelists, tools to improve battery life while browsing and a whole new look and feel.
Magic Lasso Adblock is a free, efficient and high performance ad blocker for the iPhone, iPad and Mac with native Safari integration. Version 2.0 continues to deliver a better, privacy focused web browsing experience for over 150,000 users along with a host of new features.
Community whitelists: Supporting good websites
Community whitelists are a world-first approach to supporting good websites and user respectful advertisers. Through automated crowd-sourcing of whitelisted websites from 150,000+ users, version 2.0 of Magic Lasso Adblock can now optionally display advertisements on websites with 'good' advertising.
Once enabled by a user, the community whitelist feature utilises thousands of anonymous whitelist submissions to show ads on only those sites which Magic Lasso users have determined as worthy.
Control is placed in the collective hands of all users; supporting sites with 'good' advertising practices and reducing the potential of over-zealous ad blocking.
Unlike other ad blockers, Magic Lasso Adblock continues to ensure privacy and ethical ad blocking. We are not paid by advertisers and do not let any paid ads bypass our ad blocking rules.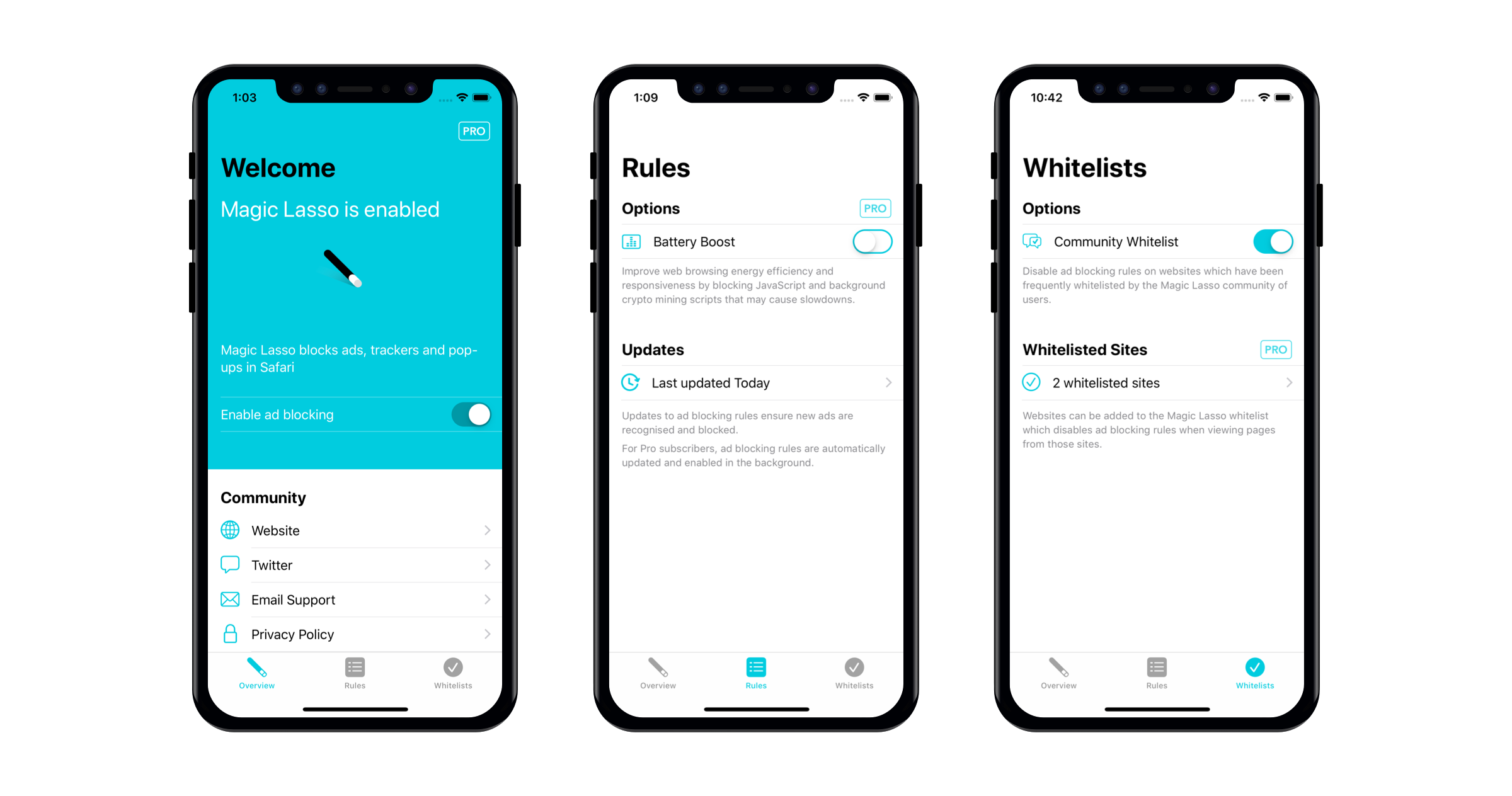 Battery Boost: Improved browsing efficiency
Magic Lasso already doubles the speed at which pages view and load in Safari. By cutting down on ads and trackers, common news websites load 2x faster and use less data.
With version 2.0, Magic Lasso Adblock introduces a simple and straightforward option to also reduce CPU usage and save battery life. Battery Boost introduces new ad blocking rulesets in Magic Lasso that pinpoint JavaScript on web pages which over burden the processor of your iPhone, iPad or Mac. Battery Boost ensures pages continue to remain responsive while saving battery life.
Browser based crypto-mining has become prevalent in recent years with approximately 0.2% of all web pages including such threats. The majority of sites that execute crypto-mining do so without user consent. These scripts slow down browsing, unnecessarily use energy and can, in some cases, cause your Mac or iOS device to slow to a crawl.
Users of Magic Lasso Adblock now have the option to block problematic scripts along with any concealed crypto-mining threats through a simple toggle.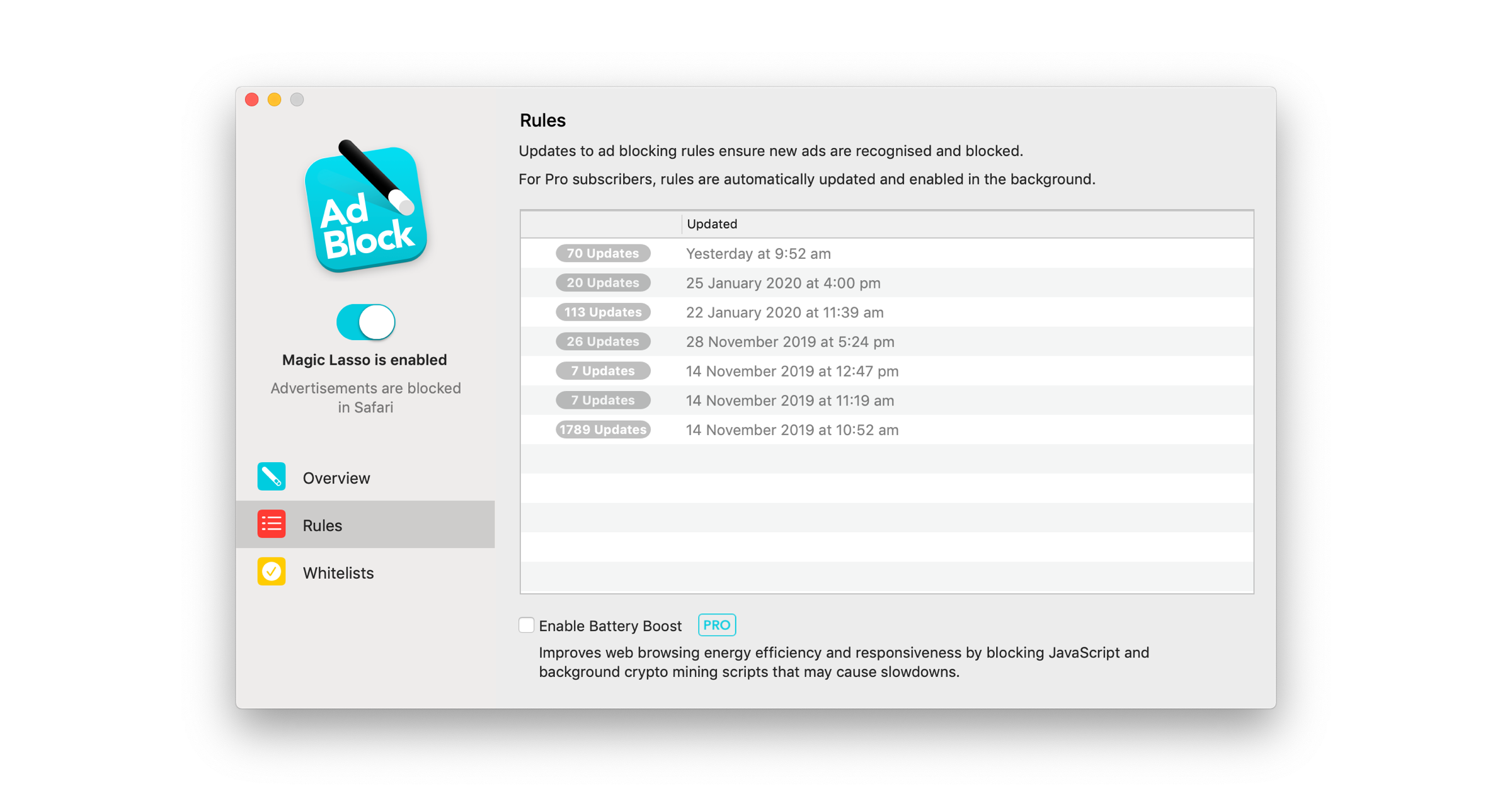 All new look and feel
Since our first release, we've delivered easy to use ad blocking without complex configuration. Simply enable Magic Lasso Adblock and browse in bliss. The curated set of best-in-class, regularly updated ad blocking rules ensures all ads are gone, with no annoying distractions or pop-ups.
For version 2.0, Magic Lasso continues to deliver leading 'set and forget' ad blocking with an all new look and feel. The new three pane interface provides: a quick overview of current status, easy access to see recent rules updates and a simple way to view and configure whitelisted websites.
Version 2.0 also includes full support for features in the latest releases of iOS 13 and macOS Catalina such as Dark Mode, along with compatibility with the new multi-tasking options in iPadOS.
Availability
Magic Lasso Adblock 2.0 is now available for free download for iPhone and iPad via the AppStore and for Mac via the Mac App Store. Further information is available via the Magic Lasso website.