Magic Lasso Adblock 4.0 is now available, delivering new personalisation features to the efficient and high performance ad blocker for the iPhone, iPad and Mac.
This new release empowers users to easily block anything on a page with a simple tap, create personal ad blocking rules that seamlessly sync via iCloud and activate the new Strict mode for maximum privacy.
Supported by over 280,000 users and boasting more than 5,000 5 star-ratings on the App Store, Magic Lasso Adblock is the leading ad blocker app for Safari. According to esteemed Apple blogger John Gruber, "It works and feels as if Apple themselves had designed an ad blocker."
Building upon the ad, tracker, and annoyance blocking capabilities introduced in earlier releases – including best-in-class YouTube ad blocking – version 4.0 takes the experience to new heights.
Here's a glimpse of the exciting new features in Magic Lasso Adblock 4.0:
Effortlessly Block Elements with Tap to Block
The all-new Tap to Block feature in Magic Lasso brings an unparalleled level of simplicity and control to customise your web browsing.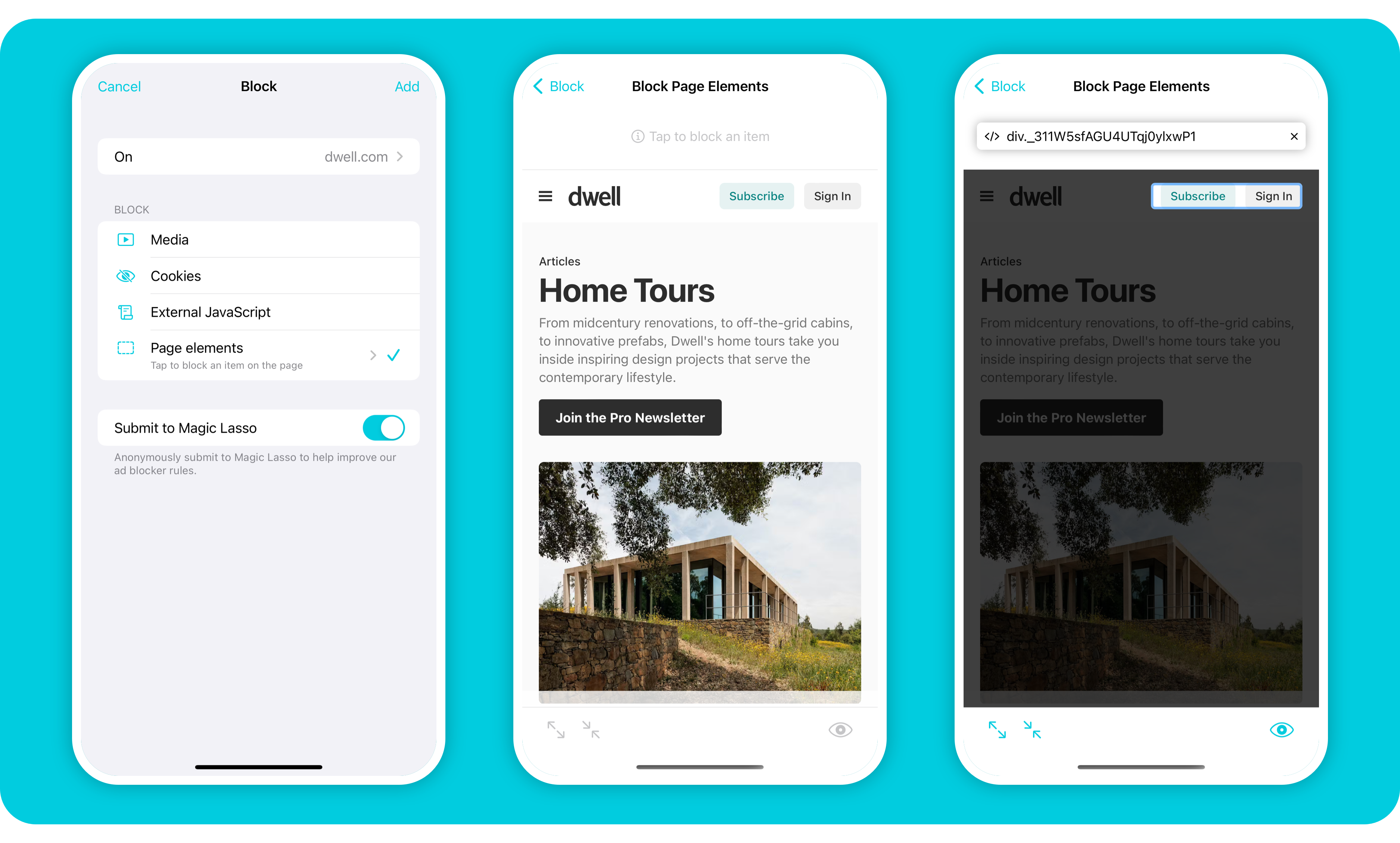 Simply tap any element on a web page and watch it disappear from your view, ensuring it never disturbs your browsing again. And thanks to Tap to Block's intelligence, any similar or repeating elements on the page, or across the whole site will also be removed.
With a mere tap, the Tap to Block algorithm selects the specific web page element you want to block and then scans the rest of the page to find similar or repeating items.
For example, in a news article filled with distracting pull quotes, tapping a single quote triggers Tap to Block. The feature then finds and blocks all similar elements throughout both the current article and all future articles from the same source. Adjustments are easy using the Expand or Contract buttons for refining your selection. Additionally, the Hide button provides an instant preview of the page without the selected elements visible.
Advanced users seeking direct control can edit the resulting CSS to allow for precise selection and more sophisticated logic.
With Magic Lasso and Tap to Block, web page element and annoyance blocking is as simple as it is powerful. Now, you can effortlessly remove bothersome pull quotes, call-outs, or visual distractions from any article, page, or site you explore.
Craft Custom Rules that Sync via iCloud
In addition to Tap to Block, Magic Lasso 4.0 introduces Custom Rules – empowering you to craft your own ad blocking rules to block media, cookies, and JavaScript.
Custom Rules complement Magic Lasso's built-in ad blocking rules to ensure a faster, cleaner, and more personalised browsing experience.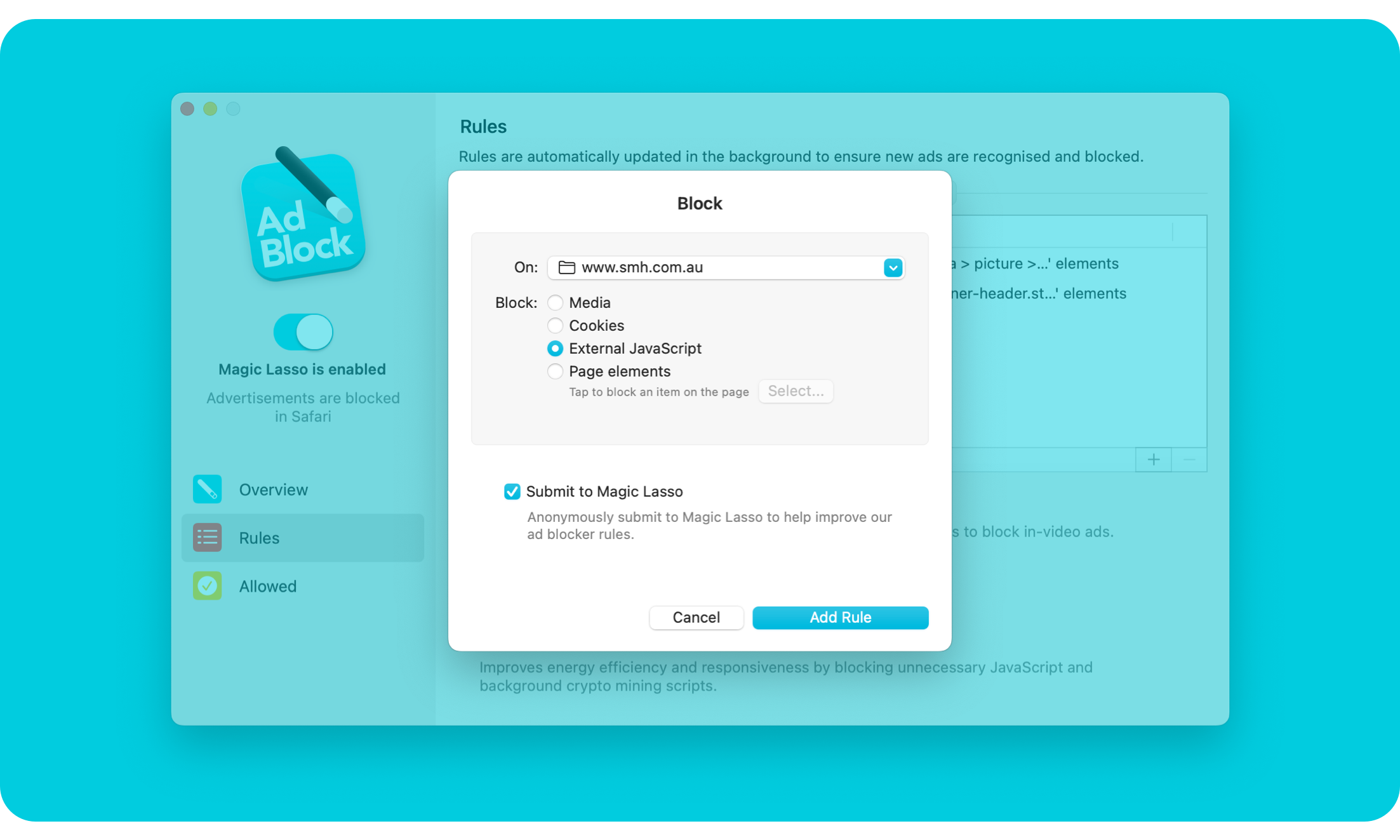 Use Custom Rules in Magic Lasso to block:
Media – Prevent loading and playback of audio and video content, for calmer web browsing and to minimise distractions and animated content.
Cookies – Stop invasive personalisation features, minimise privacy prompts and counteract tracking code by blocking cookies.
JavaScript – Block external JavaScript to streamline hefty websites, remove unnecessary interactivity, and to bypass paywall prompts.
Custom Rules can apply to specific pages, all pages from a given site, or all web pages. Better yet, these rules seamlessly sync across your devices via iCloud, ensuring consistent ad blocking across all Apple platforms.
Elevate Privacy with Strict Mode
Strict Mode offers you increased privacy protection through enhanced blocking of intrusive URLs and resources. Strict Mode empowers you to take control of your privacy.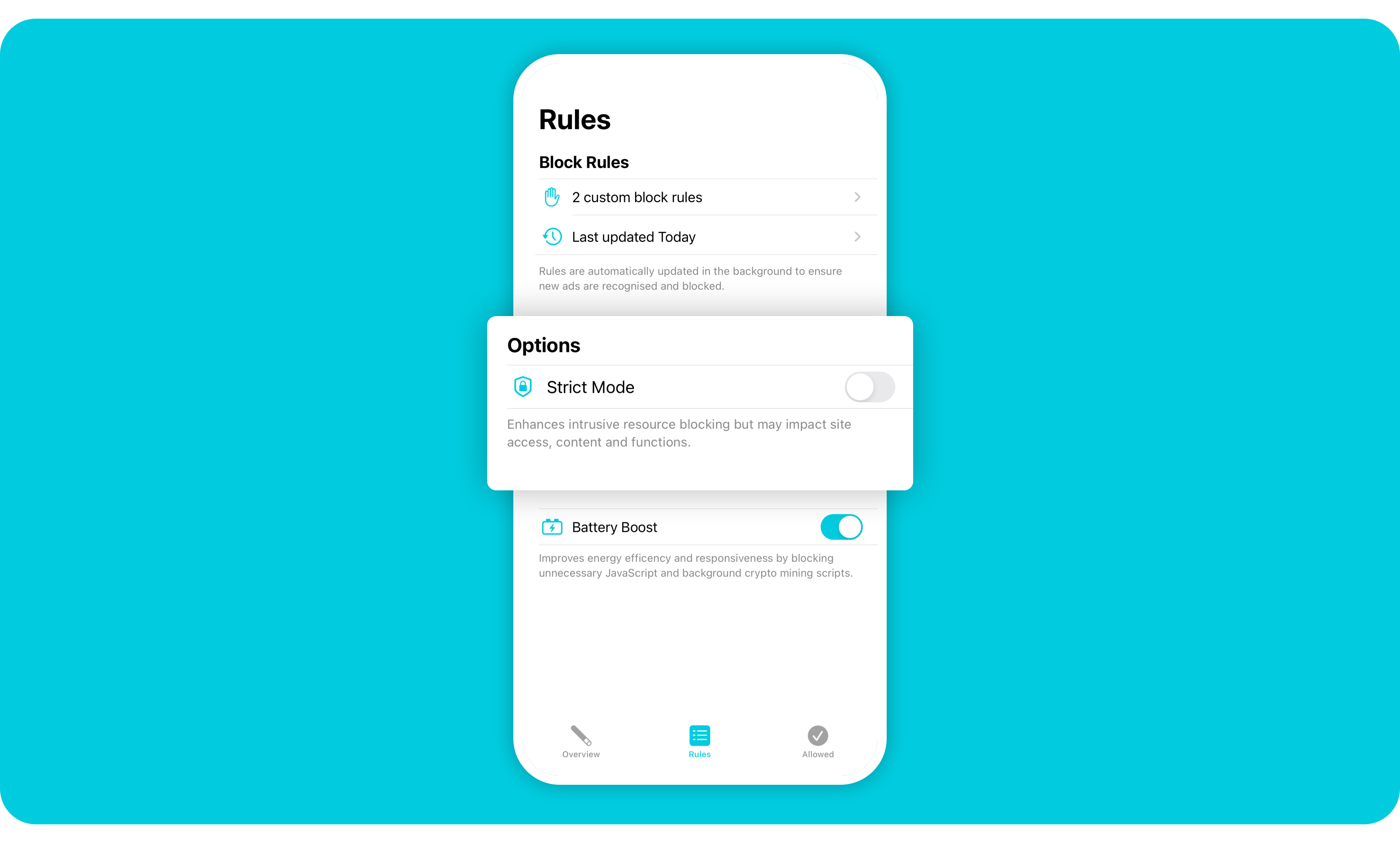 When enabled, Strict Mode will block additional websites and links, including:
Newsletter links – Links from email newsletters that track your clicks
Affiliate links – Links from common deal websites or search result pages
Specialised websites – sites primarily used for tracking, such as analytics administration apps, along with tracking and analytics features on other websites
Strict Mode enhances your privacy, but it might affect how you can use certain websites, content, and features. Enable this feature if you need maximum privacy protection and can handle the additional access limitations it may bring.
Magic Lasso Adblock 4.0: Now available on iPhone, iPad and Mac
Proudly developed in Sydney, Australia; Magic Lasso Adblock 4.0 continues our goal to make a better, more privacy focused internet.
Magic Lasso Adblock 4.0, complete with Tap to Block, Custom Rules, and Strict Mode is now available for your iPhone, iPad, and Mac.
Download via the App Store and Mac App Store, and enjoy a 30-day free trial of all the app's features. Find further details on the Magic Lasso website or send us an email with any feedback or questions.